Range, Guns & Safe's is Atlanta's preferred facility for shooting range services, firearms, and firearm accessories.  We take SAFETY very seriously and all shooters must adhere to the Firearm Safety Rules while on the range.
Our heated and air conditioned shooting ranges are custom-designed from decades of experience operating various range systems. Our Northeast location is proof in concept, with wider shooting stalls for couples, larger counter area for your range bag, hooks for your coat, range benches for your equipment, and lower counters to be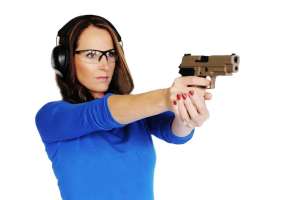 more comfortable for sitting and wheelchair access. For those who visit our ranges but are not planning to shoot we offer a viewing area from behind the shooters where you can watch from behind bulletproof windows. All considerations were given serious thought and, for your health, we supply special D-Lead soap in our restrooms to remove harmful contaminates from your hands before leaving our facility.
Just come by, choose your gun and accessories, and we'll set you up on a lane. If you need instruction, that will be provided before you shoot. You may also want to sign up for one of our popular classes.